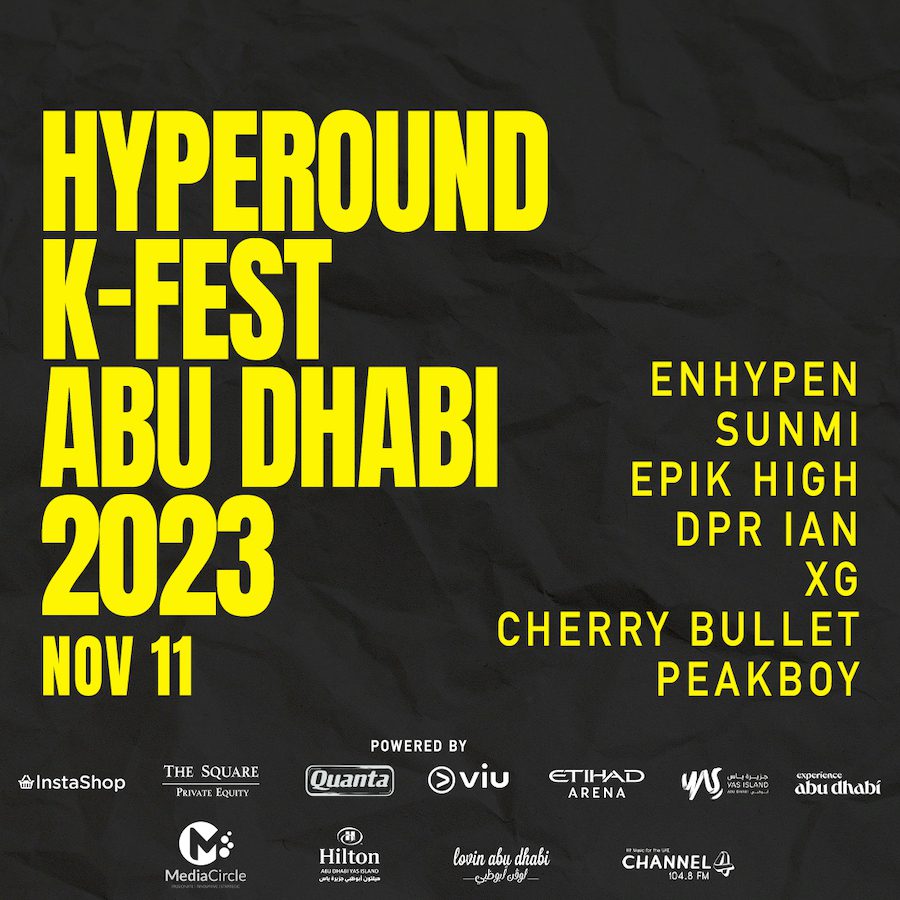 Get Ready for the Ultimate K-Pop Extravaganza at Hyperound K-Fest Abu Dhabi 2023! 🎵
Mark your calendars for a spectacular night of K-music and unforgettable performances, because Hyperound K-Fest is back, and it's bigger and better than ever! Set to take place at the magnificent Etihad Arena in Abu Dhabi on November 11th, 2023, this is one event you won't want to miss.
The lineup for this year's Hyperound K-Fest is nothing short of sensational, featuring some of the most iconic names in the Korean music scene. From K-pop sensations Enhypen to the mesmerizing Sunmi, and the legendary Epik High, the stage is set to be on fire! But that's not all; you can also look forward to incredible acts like DPR Ian, XG, Cherry Bullet, and the soulful tunes of Peakboy.
Hyperound K-Fest Abu Dhabi 2023 promises to be a musical journey that caters to a wide range of Korean music enthusiasts, spanning from K-pop to K-hip-hop and K-R&B. Whether you're a long-time K-music lover or just starting to explore the vibrant world of Korean music, this concert is the perfect opportunity to immerse yourself in the captivating sounds and performances from the heart of Korea.
Don't wait to secure your spot at this unforgettable event. Tickets are available now on Etihad Arena's website (etihadarena.ae) and PlatinumList (platinumlist.net). Hurry, because they're bound to sell out fast!
To make this event even more exciting, Channel 4 Dubai has joined as the official radio partner for Hyperound K-Fest Abu Dhabi 2023, ensuring that you'll get to enjoy exclusive insights, interviews, and music from this incredible festival.
Get ready for a night filled with music, energy, and unforgettable memories. Hyperound K-Fest Abu Dhabi 2023 is going to be an unforgettable experience for K-music fans and music lovers of all kinds. See you there on November 11th at the Etihad Arena! 🎶🎤🤩 #HyperoundKFest2023 #KPop #KMusic