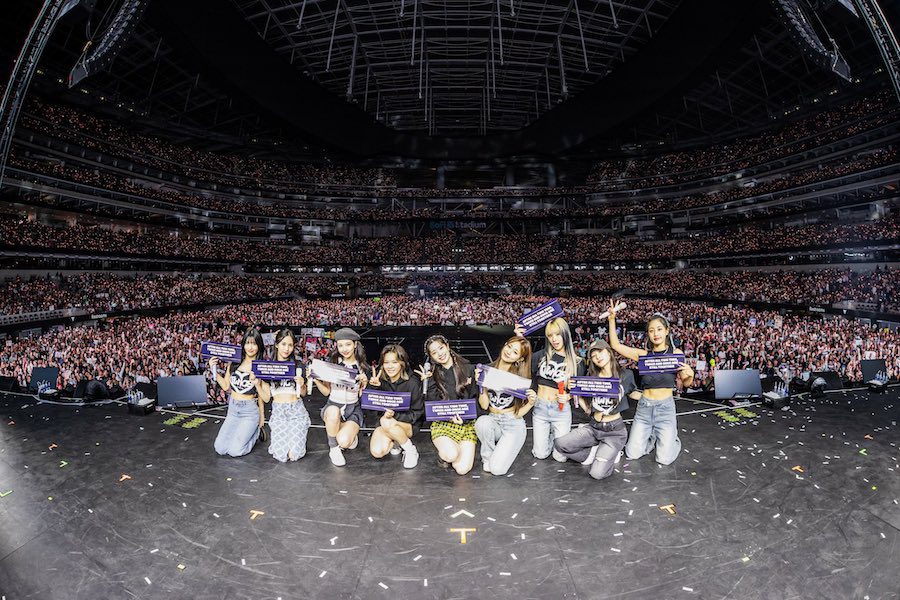 🎉 Making History: TWICE Shines as the First Female Act to Sell Out SoFi Stadium! 🎉
In an extraordinary achievement that will be etched in the annals of music history, the sensational K-pop group TWICE has made a groundbreaking mark. TWICE has become the first female act ever to headline a sold-out show at the iconic SoFi Stadium, creating a remarkable milestone for women in the industry.
SoFi Stadium, renowned for hosting some of the biggest events in the world, witnessed an incredible spectacle as TWICE captivated fans with their unparalleled talent, captivating performances, and infectious energy. The stadium's colossal stage set the perfect backdrop for TWICE to showcase their exceptional artistry to a massive, adoring crowd.
This momentous achievement highlights the ever-growing global influence and popularity of K-pop, as well as the sheer dedication and passion of TWICE's devoted fanbase, known as ONCE. Together, they have shattered barriers and paved the way for future generations of female artists to follow their dreams and command stages worldwide.
TWICE's ability to connect with fans through their empowering music, flawless choreography, and genuine charisma has propelled them to extraordinary heights. By headlining and selling out SoFi Stadium, they have demonstrated the power of their artistry and the unwavering support of their fanbase.
As we celebrate this historic moment, let's not only acknowledge TWICE's incredible achievement but also recognize the immense strides being made by women in the music industry. This groundbreaking milestone amplifies the voices of female artists, reminding us all of the limitless possibilities and the transformative power of music.
Congratulations to TWICE for this remarkable accomplishment! They have proven that with talent, dedication, and an unwavering belief in their dreams, anything is possible. Let this achievement serve as inspiration for aspiring artists, breaking down barriers and creating a more inclusive and diverse music industry.
Here's to TWICE, the trailblazers who have left an indelible mark in history and opened doors for generations to come. The world eagerly awaits their future endeavors and the continued impact they will undoubtedly make on the global stage. 👏🌟