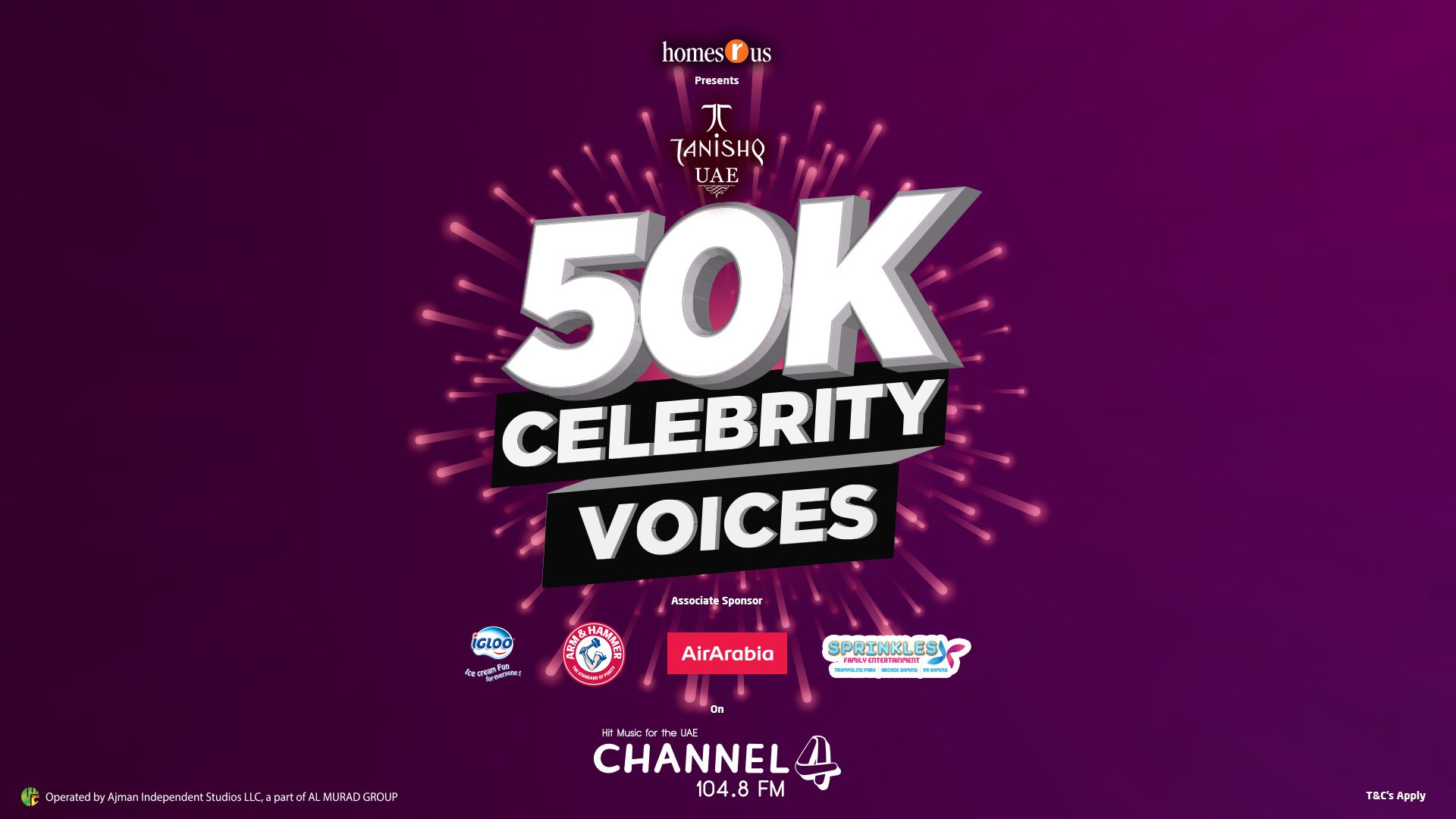 50 K Celebrity Voices – T&Cs
Terms & Conditions:
By taking part in the On Air competition – '50 K Celebrity Voices Campaign' participant hereby agrees to the following terms and conditions. We advise participants to read and understand the below terms and conditions before taking part in the competition; if and when shortlisted to be taken On Air.
Competition Terms and Conditions:
50 K Celebrity Voices Campaign is a Channel 4 Radio Network promotion involving Channel4 104.8 FM, broadcasting in the UAE.
Entries are restricted to residents of United Arab Emirates.
Overseas residents and visitors on UAE Tourist/ Business Visas are not eligible to participate.
Directors, management, employees and contractors of the Promoter and those of any agencies, retailers and suppliers directly associated with this Promotion, including Sponsors, prize provider, and the immediate family members of these people are not eligible to enter this competition.
"Immediate family member" means spouse, parent, natural or adopted child, and sibling (whether natural or adopted by a parent), whether or not they live in the same household as the director, manager, employee, officer or contracto
No proxy participation in radio contests or promotions are allowed. No pseudo name participations allowed.
You must participate as per your name on your passport or valid recognized UAE ID.
The promotion period is from 20th November – 8th December, 2023; as also specified and announced on air and on website of Channel4 104.8 FM.
Listeners to correctly identify any first celebrity voice will be rewarded Aed 1000.
Post this, all listeners' who correctly identify remaining celebrity voices as against each phrase will be rewarded Air Arabia open tickets* (Air Arabia brand led T&C's below)
Person who correctly identifies all the celebrity voices in phrase; in order of occurrence will be rewarded Aed 50,000 cash.
Once shortlisted as winner, the prize cannot be sublet or transferred to anyone else.
By entering to play, all participants give their full permission to be broadcast on any or all of the Channel 4 Radio Network stations and to be publicized positively and reasonably through social media or any other media channels.
All the contest queries or disputes should be addressed to the radio station management. Radio station management will have the final decision in such matters.
Terms & Conditions for Air Arabia open tickets :
Each winner will be applicable to receive one air ticket only.
Ticket will be valid for 6 months from the date of issue and the travel must be completed within this period.
The ticket entitles you to a return ticket from Sharjah.
The ticket will entitle you to travel to any of Air Arabia's destinations from Sharjah only.
The journey is non–transferable, non re-routable, and non-refundable and has no cash value,
Ticket will be issued only with confirmed dates and cannot be modified or cancelled once issued,
Air Arabia has the right to restrict travel on peakflights/high season,
Please book your journey at least 15 days before your flight date to ensure a confirmed seat,
Please note that all applicable taxes will be paid by Air Arabia at the time of booking.
For booking, kindly bring along with you, the winner's letter issue by Channel 4 Radio Network (photocopies and faxes are not accepted), along with your passport or any form of identification to enable us to issue a ticket.
The ticketsinclude free baggage as per Air Arabia's baggage rules.
These ticketsare from Air Arabia's internal quota. So, you might see availability online for the dates and destination you are interested in, however, internal process and quota needs to be followed before approvals are granted.
Once the ticketsare issued, no modification or cancellation will be allowed
The ticketshave to be utilized within 6 months of issuance, post which they will not be valid neither can be extended.
Channel 4 Radio network reserves the right to change or amend any of the above terms and conditions at any point of time without notice.
In the event of a force majeure- Channel 4 Radio Network reserve the rights to cancel, postpone or change the competition in any way at its own discretion without any liability towards winners and sponsors of the competition.